TOPbiomat project final meeting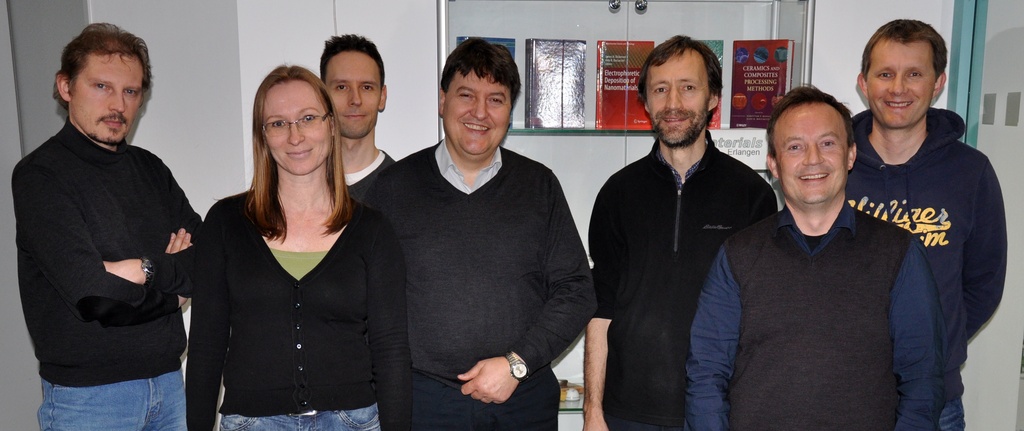 The final meeting of project TOPbiomat, funded by the Emerging Fields Initiative of the University of Erlangen-Nuremberg (FAU), was held on 2nd March at the Institute of Biomaterials, chaired by Prof. Aldo R. Boccaccini. The successful completion of the project was highlighted as well as the achievement of all goals including the establishment of several interdisciplinary working groups in the field of biofabrication and regenerative medicine and the plans to establish a new stable structure within the university that will serve as hub for the different interdisciplinary efforts in the broad area of "Biomaterials for healthcare" at FAU. The list of publications, conference presentations and other outputs that have resulted from TOPbiomat is presented here. Two recent papers from the TOPbiomat project are [1-2]. In the photograph: Prof. O. Friedrich (Engineering /Medicine), Dr. I. Cicha (Medicine), Dr. A. Arkudas (Medicine), Prof. A. R. Boccaccini (Engineering), Prof. B. Fabry (Physics), Dr. R. Detsch (Engineering), Dr. S. Lyer (Medicine).
[1] Grigore, A., Sarker, B., Fabry, B., Boccaccini, A. R., Detsch, R., Behavior of Encapsulated MG-63 Cells in RGD and Gelatine-Modified Alginate Hydrogels, Tissue Eng. Part A 20 (2014) 2140-2150.
[2] Sarker, B., Singh, R., Silva, R., Roether, J. A., Kaschta, J., Detsch, R., Schubert, D. W., Cicha, I., Boccaccini, A. R., Evaluation of Fibroblasts Adhesion and Proliferation on Alginate-Gelatin Crosslinked Hydrogel, PLoS ONE 9(9): e107952.