Symposium on Electrophoretic Deposition at ISE 2018 in Bologna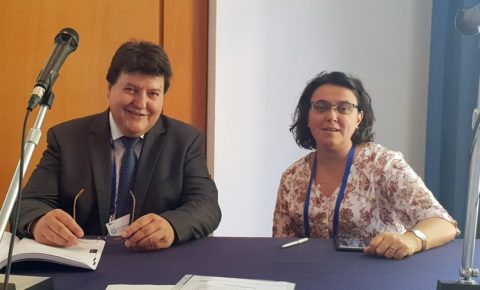 Prof. Boccaccini coordinated the symposium "Electrophoretic Deposition of Functional Coatings: from Materials Science to Biotechnology", which was organised in the framework of the 69th Annual Meeting of the International Society of Electrochemistry (ISE 2018), held in Bologna, Italy, on 2-7 September 2018. The symposium co-organsires were Prof. Begona Ferraris (Institute of Ceramics and Glasses, Madrid, Spain) (pictured with Prof. Boccaccini) and Dr. Carmen Galassi (Italian National Research Council, Italy).
Ms Svenja Heise (PhD student, pictured) presented the oral contribution from our Institute: "Electrophoretic deposition of gelatin/chitosan coatings with drug release capabilities".
Moreover the poster "Fabrication and Characterization of Electrophoretically Deposited Chitosan-Hydroxyapatite CompositeCoatings on Anodic Titanium Dioxide Layers" by Anna Pawlik el al., with Prof. Boccaccini as co-author, was presented.