Besuch aus Thessaloniki, Griechenland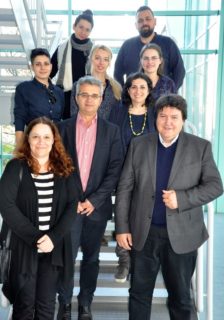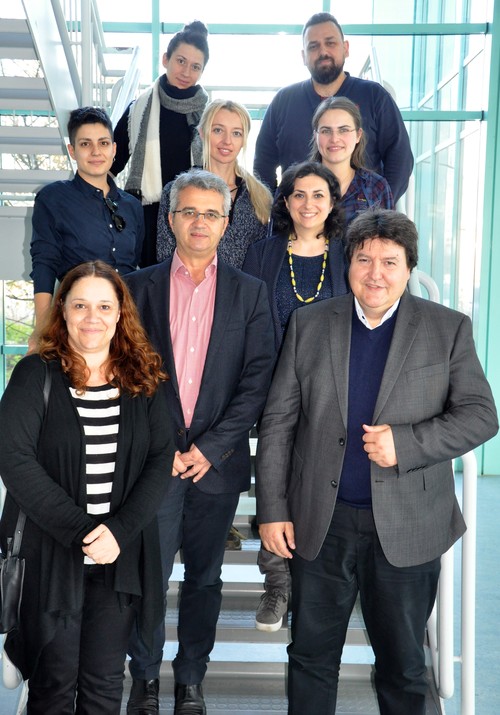 Im Rahmen unseres IKYDA-DAAD  finanzierten gemeinsamen Forschungsprojekt mit Griechenland, wir haben unsere Partner von der Aristotle University of Thessaloniki (AUT), Thessaloniki, Griechenland, am 5. und 9. November 2018 empfangen.
Das Projekt mit dem Titel: "Biodegradable osteoinductive scaffolds based on new functionalized polyesters, calcium silicate bioceramics and mesoporous nanocarriers, for bone tissue engineering" untersucht eine neue Familie von Verbundwerkstoffen auf der Basis von biologisch abbaubaren Polymeren in Kombination mit Sol-Gel-abgeleiteten, bioaktiven Gläsern für Dental- und Zahnersatz Anwendungen zur Herstellung von Knochengewebe. An der Zusammenarbeit sind Forscher der Fakultät für Zahnmedizin, der Abteilung für Physik und der Abteilung für Chemie der AUT beteiligt.
Auf dem Bild sind zu sehen: Prof. Dimitrios Bikiaris, Prof. Eleana Kontonasaki, Dr. Anastasiia Beketova, Dr. Georgios Theodorou, Frau Dimitra Patsiaoura und Frau Evangelia Christodoulou (Besucher aus Thessaloniki), gemeinsam mit Dr. Liliana Liverani, Susanne Heid und Prof. Aldo R. Boccaccini (Institut für Biomaterialien, FAU).
Das Projekt folgt und erweitert sich aus unserer erfolgreichen vorherigen Zusammenarbeit, die zu einer Reihe gemeinsamer Veröffentlichungen führte, darunter kürzlich [1].
[1] Nerantzaki, M., et al., A biomimetic approach for enhancing adhesion and osteogenic differentiation of adipose-derived stem cells on poly(butylene succinate) composites with bioactive ceramics and glasses, Europ. Polym. J. 87 (2017) 159–173.