Collaboration with Aristotle University of Thessaloniki, Greece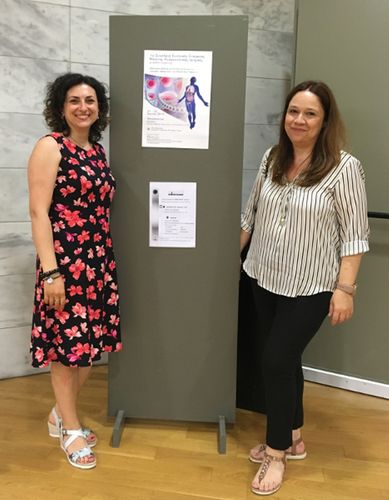 In the framework of the DAAD PPP Greece project (project title: "Biodegradable osteoinductive scaffolds based on new functionalized polyesters, calcium silicate bioceramics and mesoporous nanocarriers, for bone tissue engineering"), in collaboration with the School of Dentistry, Department of Physics and Department of Chemistry of _Aristotle University of Thessaloniki, Dr. Liliana Liverani visited Thessaloniki from 20-27 June. This project consolidates a previously existing fruitful collaboration between Prof. Aldo R. Boccaccini and different Departments of Aristotle University of Thessaloniki. Dr. Liverani also attended the 1st Congress of the Hellenic Society of Regenerative Medicine Research on 21-22 June in Thessaloniki, giving a talk entitled: "Electrospun scaffolds by using benign solvents: blends, composites and novel field of applications" (in the picture at the congress with Dr. Eleana Kontonasaki, Greek PI of the DAAD project) and during the talk with Prof. Dimitrios Bikiaris, chairman of the session. During her stay in Thessaloniki she had meeting and performed experimental activities with the Greek partners.
(Picture in the lab with Dr. Anastasia Beketova and Ms. Evangelia Christodoulou).