Researchers of the Institute of Biomaterials receive Royal Society of Chemistry (RSC) award as members of an international team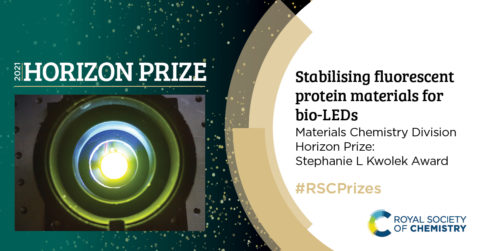 A group of researchers from the Institute of Biomaterials (WW/) (Dr. Samira Tansaz, former PhD student, Dr. Rainer Detsch, and Prof. Aldo R. Boccaccini) were part of the international team "Protein-based lighting" that has won the 2021 Materials Chemistry Division Horizon Prize: Stephanie L Kwolek Award of the Royal Society of Chemistry (RSC). The team was led by Prof. Ruben Costa, Technical University of Munich, who was formerly a research fellow in the field of hybrid optoelectronic materials and devices at FAU, and included researchers from Germany and Spain. The team developed new approaches for the stabilisation of fluorescent proteins in polymer coatings and their use in bio-based lighting technology. Relevant publication [1].
[1] L. Niklaus, et al., Micropatterned Down-Converting Coating for White Bio-Hybrid Light-Emitting Diodes, Adv. Funct. Mater. 27 (2017) 1601792.