Strong participation of our Institute at EUROMAT 2021 conference (online)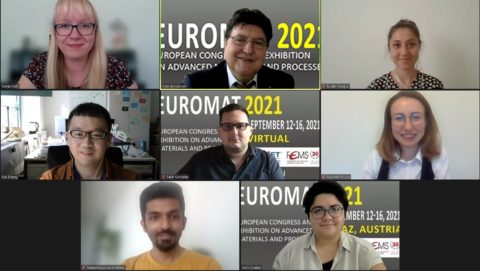 Several members of our Institute attended The European Congress and Exhibition on Advanced Materials and Processes (EUROMAT 2021), held online on 13-17 September 2021.
Prof. Boccaccini was a member of the scientific committee of EUROMAT 2021 as co-organiser of Symposium F1. He was also session chair in symposium F1 and presented the talk: "Ion doped mesoporous bioactive glass nanoparticles for drug delivery and tissue engineering" (co-author Dr. Kai Zheng).
Other members of our Institute: Dr. Kai Zheng, Sonja Kuth, Asim Akthar, Irem Unalan, and FunGlass collaborating PhD students Fatih Kurtuldu, Nurshen Mutlu and Fulden Dogrul, attended the conference with oral or poster contributions. EUROMAT conferences are among of the largest events in the field of materials science and engineering in Europe and worldwide and are organised in the framework of the Federation of European Materials Societies (FEMS)