Doctoral thesis success: Thomas Distler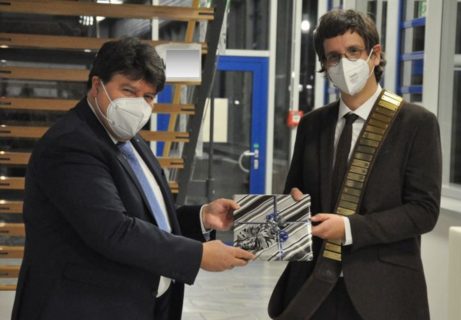 We congratulate Thomas Distler for successfully defending his doctoral thesis titled "Development and Characterization of a 3D-Printable and Electroconductive Hydrogel for Tissue Engineering" on 29th November 2021. Thomas carried out his doctoral project in our Institute supervised by Prof. Aldo R. Boccaccini in the framework of the Collaborative Research Centre SFB 1270 "ELAINE – Electrically Active Implants" in collaboration with Prof. Seitz's group at University of Rostock. The examination board was composed by Prof. Michael Gelinsky (TU Dresden), Prof. Oliver Friedrich (Institute of Biomedical Technology, FAU), Prof. Matthias Goeken (Institute for Materials Science, FAU) and Prof. Boccaccini. Prof. Boccaccini highlighted the excellent results obtained by Thomas during his research project, focusing on the development of a new generation of electrically conductive and printable alginate based hydrogels for cartilage regeneration. Thomas carried out also his Master thesis in our Institute. The doctoral thesis was submitted in cummulative form given the quantity and quality of his publications (for example [1-2]). See Thomas' list of publications in Google Scholar. Many congratulations to Thomas for the successful defense of his doctoral thesis, we wish him all the best in his future career.
[1] T. Distler, et al., Ionically and enzymatically dual cross-linked oxidized alginate gelatin hydrogels with tunable stiffness and degradation behavior for tissue engineering, ACS Biomaterials Science & Engineering 6 (2020) 3899-3914.
[2] T. Distler, et al., Electrically Conductive and 3D-Printable Oxidized Alginate-Gelatin Polypyrrole: PSS Hydrogels for Tissue Engineering, Advanced Healthcare Materials 10 (2021) 2001876.