End-of-Year meeting at the Institute of Biomaterials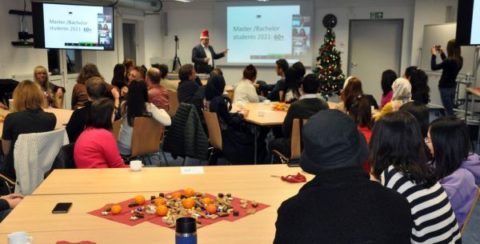 The End-of-Year meeting and Christmas dinner of the Institute of Biomaterials was held on 13th December 2022 with the presence of staff, students and guests, with some Institute's members connected online. Prof. Boccaccini summarized in his presentation the main achievements and activities of the Institute in 2022 highlighting the high success in terms of acquisition of funding, publication of high impact papers (>80 in 2022) and important participation in major international conferences with contributed, invited and keynote talks. He also remarked the successful organization of several scientific and dissemination events, including our participation in the "Long Night of the Sciences" in May, our contribution to the UN International Year of Glass 2022 in July, and the organization of the Boccaccini 60th birthday international symposium in October.
During 2022, more than 40 Master, Bachelor and Project students, including international students, completed their theses/research projects in our Institute, and many members of the Institute received national and international awards. In addition, 4 doctoral theses were completed, and we received over the year more than 30 academic visitors and international students from many countries around the world. At the End-of-Year meeting 17 nationalities were present showing the truly international character of our Institute.
Merry Christmas and Happy New Year !