Auftakttreffen des Projekts B03 in TRR-225: "From the fundamentals of biofabrication towards functional tissue models"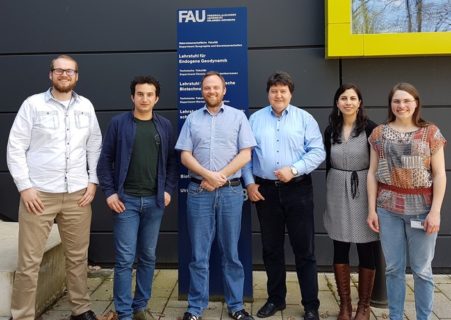 Das Auftakttreffen des Projekts B03 (Simultandruck von Strukturen, die mit Bio-Verfahren hergestellt wurden und maßgeschneiderten Bioreaktoren) im Rahmen des Sonderforschungsbereichs TRR 225 "Von den Grundlagen der Biofabrikation zu funktionellen Gewebemodellen" fand am 17. April 2018 am Lehrstuhl Biomaterialien der Universität Erlangen-Nürnberg statt.
Dieses Projekt ist eine Forschungskooperation zwischen den Gruppen von Dr. Sahar Salehi, Universität Bayreuth, Dr. Jan Hansmann, Lehrstuhl für Tissue Engineering und Regenerative Medizin, Universitätskrankenhaus Würzburg und Professor Boccaccini, FAU Erlangen-Nürnberg.
Das Projekt wird neue Ansätze zur Biofabrikation mit Composite Bioinks und dem simultanen Drucken von Bioreaktoren untersuchen.
Im Bild: Marius Gensler (Doktorand, Würzburg), Milad Eyvazi Hesar (Doktorand, Bayreuth), Dr. Jan Hansmann, Prof. Aldo R. Boccaccini, Dr. Sahar Salehi und Susanne Heid (Doktorandin, Erlangen).