Zusammenarbeit Halle-Jena-Erlangen zum Thema bioaktive Glas-Keramiken: DFG Projekttreffen in Jena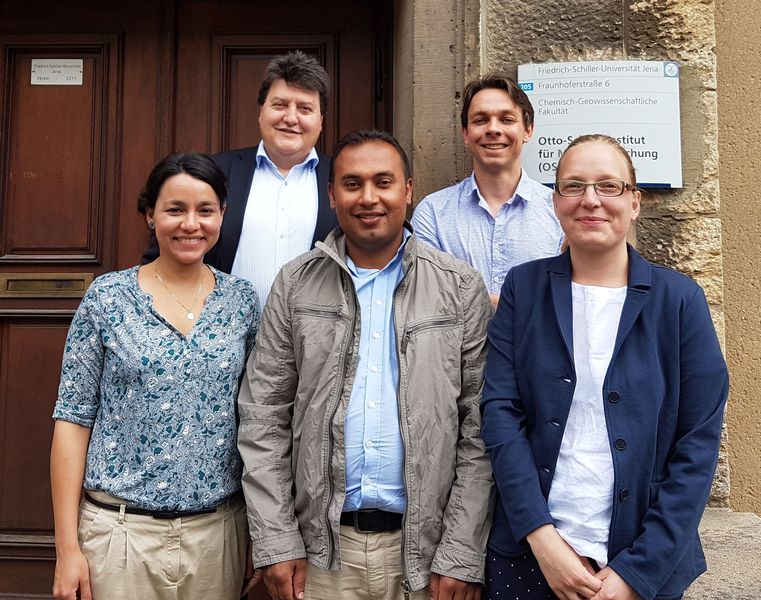 Am 27. Juni 2018 besuchten Prof. Aldo R. Boccaccini und Qaisar Nawaz (Doktorand) das DFG Projekttreffen am Otto-Schott-Institut für Materialforschung der Universität Jena, welches von Professor Delia Brauer ausgerichtet wurde.
Diese Forschungszusammenarbeit im Bereich der fortgeschrittenen mikrostrukturellen Charakterisierung von bioaktiven Gläsern und Glas-Keramiken umfasst Forscher des Fraunhofer-Institut für Mikrostruktur von Werkstoffen und Systemen (IMWS), aus der Arbeitsgruppe "Nanomaterials and Nanoanalytics (GNN)" (Leiter: Prof. Dr. Thomas Höche), dem Lehrstuhl Biomaterialien an der FAU und der Gruppe von Prof. Delia Brauer.
Auf dem Foto zu sehen sind Prof. Delia Brauer (Universität Jena), Dr. Altair Contreras (Universität Jena), Dr. Christian Patzig (IMWS), Qaisar Nawaz (Lehrstuhl Biomaterialien Erlangen) and Prof. Aldo R. Boccaccini.