International Society for Biofabrication (ISBF) Konferenz in Würzburg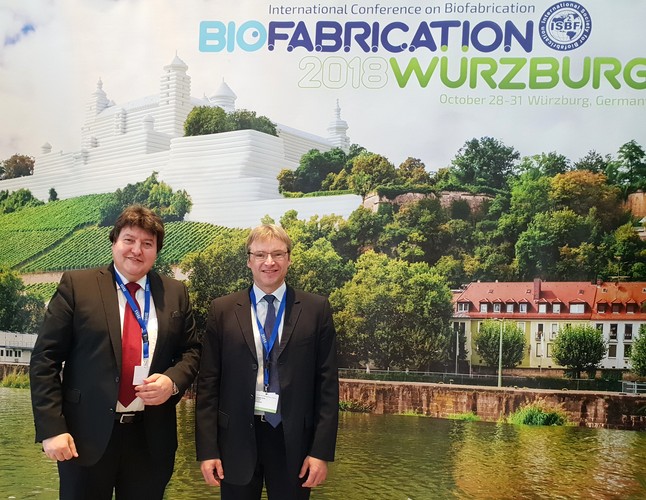 Die internationale Konferenz 2018, der International Society for Biofabrication (ISBF) wurde vom 28.-31. Oktober in Würzburg, Deutschland, unter dem Vorsitz von Prof. J. Groll (Universität Würzburg) abgehalten.
Unser Lehrstuhl hatte eine starke Beteiligung an der Konferenz. Prof. Aldo R. Boccaccini war Gastreferent in der Sitzung "Biofabrication in Germany", bei der er den Vortrag "Development of composite bioinks incorporating bioreactive inorganic particles" präsentierte. Dr. R. Detsch präsentierte den mündlichen Vortrag: "Engineering of vessel grafts using alginate di-aldehyde–gelatin bioinks". Zudem gab es fünf Poster Präsentationen, bei denen Wissenschaftler des Lehrstuhl Biomaterialien mitgewirkt haben.
Darüber hinaus war der Sonderforschungsbereich SFB/TRR 225 "Von den Grundlagen der Biofabrikation zu funktionalen Gewebemodellen" mit einem gewidmeten Symposium und zahlreichen mündlichen Vorträgen, sowie Poster Präsentationen von TRR225 Wissenschaftlern unübersehbar an der Konferenz.
Auf den Fotos: Prof. Boccaccini mit Prof. J. Groll und Prof. J. Salber (Universitätsklinikum Knappschaftskrankenhaus Bochum) sowie mit der Gruppe der Wissenschaftler des Lehrstuhl Biomaterialien (Susanne Heid, Emine Karakaya, Jonas Hazur, Doktoranden und Dr. R. Detsch) und der FAU (Dr. Annika Weigand, Dr. Ingo Thievessen), zudem mit Dr. Jennifer Ritzer (Universitätsklinikum Würzburg) und allen Mitgliedern des TRR225.