Auszeichnung für beste Doktorarbeit für Dr. Harald Unterweger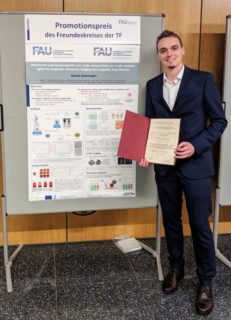 Der Freundeskreis im Alumni Technische Fakultät Erlangen (ATE) e.V. überreichte eine von drei Doktorarbeits-Auszeichnungen 2018 an Dr. Harald Unterweger. Er schloss seine Doktorarbeit (Dr.-Ing.) 2017 an der Universität Erlangen-Nürnberg am Lehrstuhl Biomaterialien in Kooperation mit der Sektion für Experimentelle Onkologie und Nanomedizin (SEON)  des Universitätsklinikums Erlangen unter der Betreuung von Prof. Dr.-Ing. habil. Aldo R. Boccaccini und Prof. Dr. med. Christoph Alexiou ab.
Die Auszeichnung wurde zum Anlass des Tages der Technischen Fakultät am 16. November 2018 überreicht. Dies ist bereits die zweite Auszeichnung von Dr. Unterweger für seine Doktorarbeit in der er multimodale superparamagnetische Eisenoxid-Nanopartikel als sichere MRT Kontrastmittel und für magnetisches "drug-targeting" entwickelt und charakterisiert hat.
Das neuste Paper seiner Doktorarbeit wurde Anfang des Jahres publiziert [1].
[1] Unterweger, H., et al., Dextran-coated superparamagnetic iron oxide nanoparticles for magnetic resonance imaging: evaluation of size-dependent imaging properties, storage stability and safety. International Journal of Nanomedicine, 13 (2018) p. 1899-1915.