Jährliches Treffen des Netzwerks Argentinischer Wissenschaftler (RCAA) in Deutschland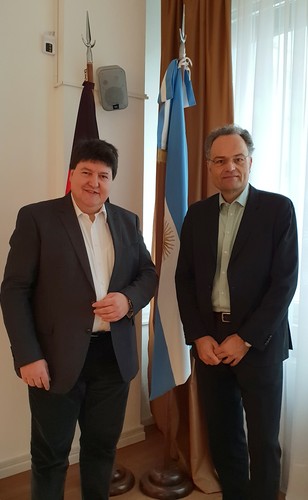 Prof. Aldo R. Boccaccini nahm an der Jahreshauptversammlung (JHV) des Netzwerks Argentinischer Wissenschaftler in Deutschland (Red de Cientificos Argentinos en Alemania, RCAA) teil, welche am 23. November 2018 in der argentinischen Botschaft in Berlin abgehalten wurde.
Prof. Boccaccini vertritt die Bereiche "Agrarwissenschaft, Ingenieurswesen und Materialwissenschaft" im Beratungsausschuss des RCAA und ist dort momentan der wissenschaftliche Koordinator. Das RCAA wurde im November 2009 gegründet und Prof. Boccaccini ist seither Mitglied des Beratungsausschusses. Bei diesem wichtigen Treffen in Berlin wurde die Geschäftsordnung des Netzwerks genehmigt und von Prof. Boccaccini als wissenschaftlichem Koordinator unterschrieben (Foto).
Das Netzwerk fokussiert sich auf Forschungszusammenarbeiten und wissenschaftliche Interaktionen zwischen Deutschland und Argentinien und ist Teil des RAICES Programm, des "Secretary of Science, Technology and Innovative Production" in Argentinien.
Im Bild ist Prof. Boccaccini zusammen mit Dr. Daniel Zimmermann, dem Direktor des Deutsch-Argentinischen Hochschulzentrums (CUAA-DAHZ) in Bonn zu sehen, welcher einer der Gastredner bei dem Treffen war.