Doctoral thesis success: Ms Abirami Sengottuvelan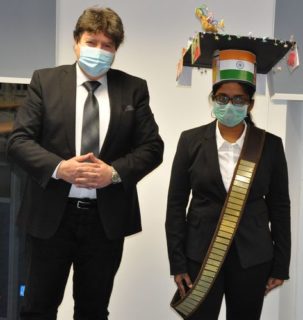 We congratulate Abirami (Abi) Sengottuvelan who successfully defended her doctoral thesis entitled "Bioactivation of titanium dioxide scaffolds by functionalization and coating approaches" on 30th November 2020. Abi carried out her doctoral project in our Institute supervised by Prof. Aldo R. Boccaccini. The examination board was composed by PD Dr. Emanuel Ionescu (TU Darmstadt), Prof. Martin Hartmann (CBI Department, FAU), Prof. Sanna Virtanen (Institute for Surface Science and Corrosion, FAU) and Prof. Boccaccini. Prof. Boccaccini congratulad Abi and highlighted her extensive experimental work in the field of bioceramics and characterisation of titania scaffolds for bone tissue Engineering. Abi worked also in several other projects, including two European projects in the field of sustainable materials and bioactive glasses. Several papers have already been published from the results of Abi's thesis (for example [1]). Many congratulations to Abi for her doctorate degree and we wish her all the best in her future career.
[1] A. Sengottuvelan, et al., Bioactivation of titanium dioxide scaffolds by ALP-functionalization, Bioactive Materials 2 (2017) 108-115.