Prof. Xanthippi Chatzistavrou, Michigan State University, presents an invited seminar in our Institute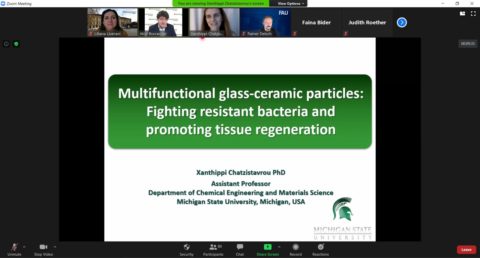 On 17th Dec. 2020 Prof. Xanthippi Chatzistavrou, Department of Chemical Engineering and Materials Science, Michigan State University, USA, presented the invited seminar: "Multifunctional glass-ceramic particles: Fighting resistant bacteria and promoting tissue regeneration" in the framework of our Advances in Biomaterials seminar series in our Institute. Prof. Chatzistavrou was a member of our Institute in 2010-2011. We have published several papers in collaboration with Prof. Chatzistavrou (for example /1/), and we are currently collaborating in the field of antibacterial bioactive glasses.
[1] X. Chatzistavrou, et al., Designing dental composites with bioactive and bactericidal properties, Materials Science and Engineering: C 52, (2015) 267-272.