Visit of Dr. Muhammad Atiq Ur Rehman, Assistant Professor and Head Biomaterials Lab at Institute of Space Technology Islamabad, Pakistan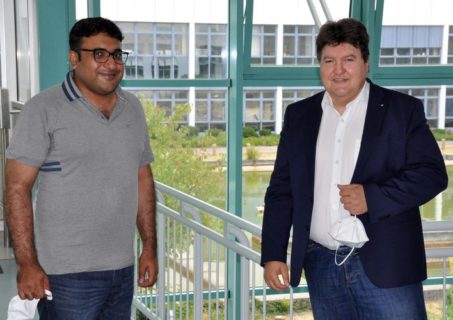 Dr. Muhammad Atiq Ur Rehman, who graduated with the Dr.-Ing. degree from our Institute in 2018, is visiting us in August. We are currently collaborating with Dr. Muhammad Atiq Ur Rehman in the framework of a British Council funded project, involving also Prof. Ipsita Roy, University of Sheffield, UK, in the field of the development and characterization of multifunctional coatings on Ti and Mg implants by means of electrophoretic deposition, following a technology developed previously in our Institute [1]. We are hosting also Dr.  Aneeqa Nawaz of the same institution in Pakistan.
[1] M.A. Ur Rehman, S. Ferraris, W.H. Goldmann, S. Perero, F.E. Bastan, Q. Nawaz, G.G. Di Confiengo, M. Ferraris, A.R. Boccaccini, Antibacterial and Bioactive Coatings Based on Radio Frequency Co-Sputtering of Silver Nanocluster-Silica Coatings on PEEK/Bioactive Glass Layers Obtained by Electrophoretic Deposition, ACS Appl. Mater. Interfaces. 9 (2017) 32489–32497.