Besuch aus Portugal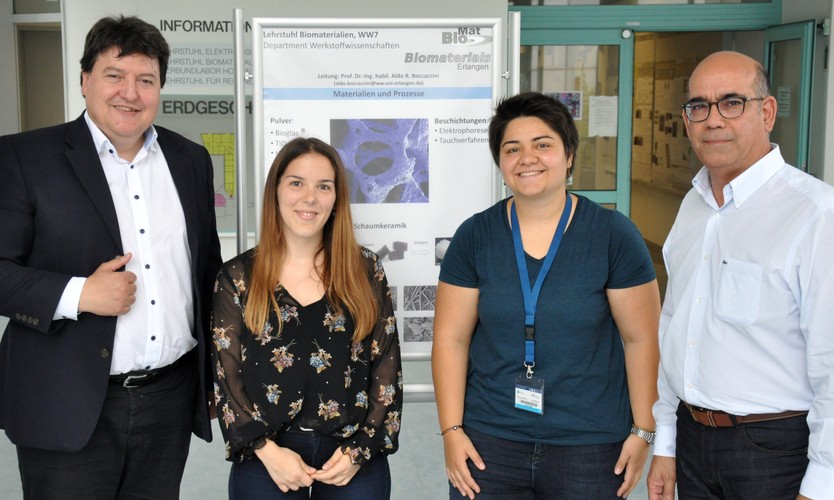 Im Rahmen unseres DAAD geförderten Projekts zu Biomaterialien, die aus Borosilikat-Sol-Gel gewonnen werden, mit der Universität von Aveiro (UA), Portugal, besuchten Jose Carlos Almeida und Soraia Coelho, Department Materials & Ceramic Engineering und CICECO – Aveiro Institute of Materials, Centre for Research in Ceramics and Composite Materials, den Lehrstuhl Biomaterialien am 5.-6. Juli 2018.
Das Projekt umfasst die Entwicklung und Charakterisierung einer neuen Familie bioaktiver Borosilikatgläser für Anwendungen wie Wundheilung und Knochenregeneration. Die an der CICECO entwickelten neuen Materialien werden bezüglich ihrer Bioaktivität und Zytotoxizität in unserem Institut getestet. Bis Ende des Jahres werden Forscher unseres Instituts das Partnerinstitut in Portugal besuchen.
Auf dem Bild sind Soraia Coelho (Master-Studentin, UA), Irem Uenalan (Doktorandin, FAU), Jose Almeida (UA) und Prof. A. R. Boccaccini zu sehen.