Dr. Harald Unterweger receives PhD Thesis Award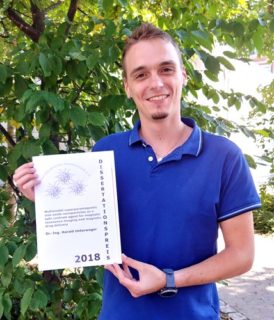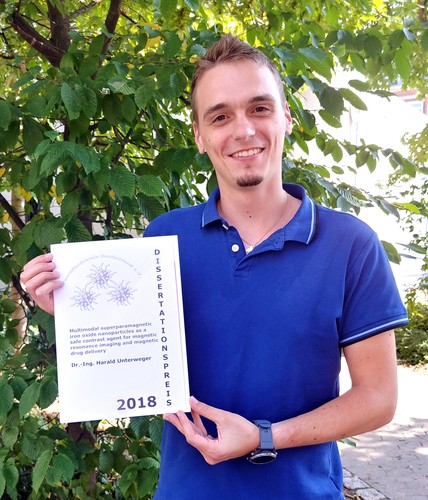 The Ferrofluid Verein Deutschland e.V. presented the PhD Thesis Award 2018 to Dr. Harald Unterweger for his PhD thesis (Dr.-Ing.) completed in 2017 at the University of Erlangen-Nürnberg, Institute of Biomaterials, in cooperation with the Section of Experimental Oncology and Nanomedicine (SEON) of the University Hospital Erlangen, under supervision of Prof. Dr.-Ing. habil. Aldo R. Boccaccini and Prof. Dr. med. Christoph Alexiou.
The award was presented at the occasion of the 17th German Ferrofluid Workshop which was held in Braunschweig on 18 July to 20 July 2018. In his doctoral thesis, Dr. Unterweger developed and characterized multimodal superparamagnetic iron oxide nanoparticles as a safe MRI contrast agent and for magnetic drug targeting. The most recent paper from his doctoral thesis has been recently published [1].
1. Unterweger, H., et al., Dextran-coated superparamagnetic iron oxide nanoparticles for magnetic resonance imaging: evaluation of size-dependent imaging properties, storage stability and safety. International Journal of Nanomedicine, 2018. 13: p. 1899-1915.