Promotionserfolg: Nicoletta Toniolo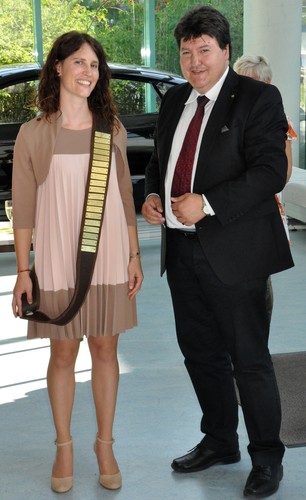 Nicoletta Toniolo, die ihre Doktorarbeit unter der akademischen Betreuung von Prof. Aldo R. Boccaccini durchführte, verteidigte ihre Arbeit erfolgreich am 27. Juli 2018.
Ihre Arbeit mit dem Titel: "Novel geopolymers incorporating silicate waste", wurde im Rahmen des Horizon 2020 ETN EU Projekts "Advanced glasses, Composites And Ceramics for High growth Industries – CoACH" in Zusammenarbeit mit Prof. E. Bernardo (Universität Padova, Italien), Prof. Ivo Dlouhy (IPM, Brno, Tschechien) und dem industriellen Partner SASIL S.p.A. (Italien) durchgeführt. Prof. Cristina Leonelli (Universität Modena und Reggio-Emilia, Italien), Prof. Enrico Bernardo (Universität Padova, Italien), Prof. Martin Hartmann (CBI Department, FAU), Prof. Kyle Webber (Lehrstuhl für Glas und Keramik, FAU) und Prof. Boccaccini waren die Mitglieder des Prüfungsausschusses.
Prof. Boccaccini hob die hervorragende Forschungstätigkeit von Nicoletta hervor, die das Geopolymer Labor an unserem Lehrstuhl erfolgreich gegründet und somit neue Möglichkeiten für experimentelle Forschungsprojekte auf diesem spannenden und bedeutungsvollen Forschungsgebiet geschaffen hat. Einige wissenschafltiche Veröffentlichungen resultierten aus Nicoletta's Arbeit, einschließlich einem umfangreichen review paper [1, 2], welches als das am häufigsten heruntergeladene paper im "Journal Ceramics International" während der letzten Monate erscheint. Wir gratulieren Nicoletta für ihre Leistungen und wünschen ihr das Beste für ihre zukünftige Karriere.
[1] Toniolo, N., et al., Fly-ash-based geopolymers:  How the addition of recycled glass or red mud waste influences the structural and mechanical properties, J. Ceram. Sci. Technol. 8
(2017) 411-420.
[2] Toniolo, N., Boccaccini, A. R., Fly ash-based geopolymers containing added silicate waste. A review, Ceramics International 43 (2017) 14545-14551.