Doctoral thesis success: Fatih Kurtuldu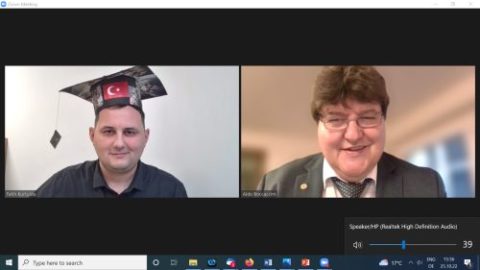 We congratulate Fatih Kurtuldu for successfully defending his doctoral thesis titled "ION DOPED MESOPOROUS BIOACTIVE GLASS NANOPARTICLES WITH ANTI-BACTERIAL ACTIVITY AND MINERALIZATION CAPABILITY" on 24th October 2022. He carried out his doctoral project under the co-tutelle agreement between our Institute (supervised by Prof. Aldo R. Boccaccini) and the Centre for Functional and Surface Functionalized Glass  FunGlass, University of Trencin, Slovakia (supervised by Prof. Dusan Galusek). The oral defense was held in Trencin. Prof. Boccaccini highlighted the outstanding results obtained by Fatih during his research project, in which a new family of mesoporous bioactive glasses with biologically active ion release capability was developed. Several papers have been published from Fatih's project (for example [1-2]). Many congratulations to Fatih for the successful defense of his doctoral thesis, we wish him all the best in his future career.
[1] F. Kurtuldu, et al., Cerium and gallium containing mesoporous bioactive glass nanoparticles for bone regeneration: Bioactivity, biocompatibility and antibacterial activity, Materials Science and Engineering: C. Volume 124 (2021) 112050. 
[2] F. Kurtuldu, et al., Anti-inflammatory and anti-bacterial activities of cerium containing mesoporous bioactive glass nanoparticles for drug-free biomedical applications, Materials Today Bio. Volume 12 (2021) 100150.