Progress meeting of our joint project with AGH University of Science and Technology, Krakow, Poland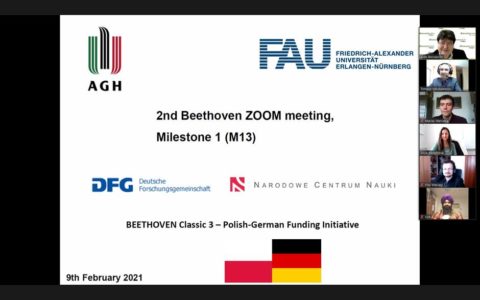 The latest progress meeting our international project: "Development of electrophoretic co-deposition of bioactive and antibacterial ceramics with biodegradable polymers to produce novel composite coatings for biomedical applications" was held remotely on 9th February 2021. The project has received funding from the German Science Foundation (DFG) and the National Science Centre (NCN) (Poland). The project is led by Prof. Tomasz Moskalewicz, Faculty of Metals Engineering and Industrial Computer Science, AGH University of Science and Technology, and Prof. Aldo R. Boccaccini. The objective of the project is to develop and characterize novel composite coatings exhibiting bioactive and antibacterial functionalities for orthopedic and dental applications employing electrophoretic deposition (EPD). In addition to Prof. Boccaccini, Ms Zoya Hadzhieva and Mr Ranjot Virk (PhD students) attended the meeting representing the Institute of Biomaterials. There have been already papers published in the framework of this project [1,2].
[1] T Moskalewicz, et al., Hydroxyapatite/sodium alginate coatings electrophoretically deposited on titanium substrates: microstructure and properties,Applied Surface Science 540 (2021) 148353.
[2] F Maciąg, et al., The Effect of electrophoretic deposition parameters on the microstructure and adhesion of zein coatings to titanium substrates, Materials 14 (2021) 312.